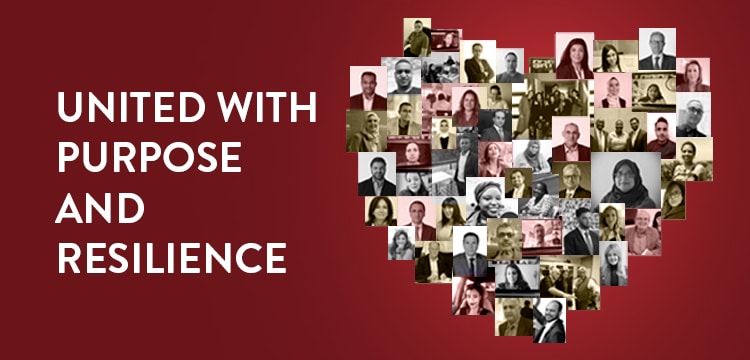 United with purpose & resilience
Education for impact ®
Honoris United Universities has been upholding two primary mandates during the COVID-19 pandemic: People Care and Continuation of Studies. Throughout the continent, our faculty and staff, our students and our communities have brought these mandates to life, responding to the accelerating health crisis with care and with urgency. Our CEO, Luis Lopez, offers his thoughts on navigating the crisis.
Around the world, educational institutions have closed to contain the spread of COVID-19, leaving more than 1.5 billion students to interact differently, or to not participate, in their educational path. According to UNESCO, nationwide closures are impacting over 91% of the world's student population, while localised closures in some countries are impacting millions of additional learners.
As we continue to navigate the many changes happening around us, I wanted to thank you and to recognise every single individual from our network. In a very short time, each of you has responded to the health crisis, with plans, with care and with urgency.
Your resilience and commitment to care and to the support of our learning communities is clear and uplifting. You have lived the Honoris values. Put simply, the people of Honoris have shown commitment and solidarity across the continent.
From Casablanca to Durban, from Cape Town to Tunis, you have demonstrated impressive efforts and results in adapting to remote learning and to remote working, ensuring the continuation of studies for our 45,000 students across 11 institutions.
Honoris and I thank you.
In addition, our communities have responded to the calls for support from governments and healthcare professionals in identifying new solutions in the fight against COVID-19. I strongly commend these teams for the rapid development of affordable and accessible solutions. I am proud of you.
Honoris United Universities is committed to Education for Impact. Our middle name, "United", has and will continue to mean, joined in purpose. Together, you have made this commitment more meaningful than ever.
We are experiencing a pivotal moment for our education systems and I know your calibre and contributions will continue to translate to quality outcomes for our students and for our communities.
I am and remain optimistic because you are Honoris.