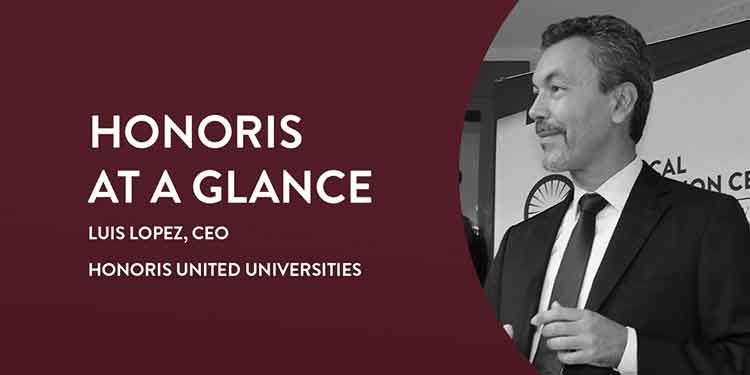 Looking Back on 2018 at Honoris United Universities
Education for Impact ® by Luis Lopez, CEO Honoris United Universities
It has been only 18 months since the launch of Honoris United Universities, and yet we are proud of the many projects and accomplishments achieved in this time. We have officially welcomed new institutions in Mauritius, Morocco and Tunisia, unveiled new campuses and learning centres, and watched our students consistently succeed across the continent and internationally.

All of these achievements have been driven by our core belief in Education for Impact. It's a statement that carries multiple meanings, but essentially, it's about making a difference to each student and their future.
Today, Honoris brings together a community of 32,000 students across 58 campuses, learning centres, and via on-line, in 9 countries and 30 cities across Africa. Our network is made up of 10 institutions that include multidisciplinary universities, specialized schools, technical and vocational institutes, and contact and distance learning institutions. Students benefit from exclusive partnerships and exchange programs in more than 60 universities across Europe, Asia and the United States.
Honoris offers over 150 degrees-in Health Science, Engineering, IT, Business, Law, Architecture, Arts and Design, Media, Education, and Political Science.
These statistics are a proxy to understanding our growth since Honoris was launched, but a better way to view such would be to see how, over the last year, we invested and committed to accessibility and to student success in learning environments and options.
In Tunisia, for example, we are preparing to build a flagship campus for Université Centrale (20,000 to 25,000 square meters). The facility will be located in the heart of the vibrant city of Tunis, and will offer a world-class education environment for our students. It's a major milestone which we believe will transform the provision of private Higher Education in Tunisia, and it reinforces our commitment to pioneering education in the country and to furthering Tunisia as an educational hub in Francophone Africa.
Another milestone moment is the Medical Simulation Centre in Tunisia. Developed in coordination with international experts, the centre has been created using cutting edge simulation technologies and is housed over 2,500m2 right in the heart of Tunis.
Throughout the continent, we're developing learning environments that have been designed for Africans in a 21st century fashion.
For example, in Durban, South Africa, REGENT Business School has launched the iLeadLAB. It's not a classroom or a library – it's a space where students and alumni can come and gain new skills, especially digital ones, to further their education.
Elsewhere in South Africa, MANCOSA launched their online MBA, which marked an exciting step forward for this already trailblazing institution. With a cutting-edge curriculum that is internationally-benchmarked, this online program speaks directly to our strategic vision of providing access to quality education to students across the African continent.
In Casablanca, Morocco, we've opened up a multidisciplinary learning facility downtown with over 10,000 m2, and we are adapting it to have ease of access for students in an urban setting that will enable them to grow and develop their skills in a vibrant and growing ecosystem of institutions, from employers to government and NGOs.
Through all of these exciting projects, as well as through our continued expansion, I've set my sights on initially impacting 100,000 students in Africa – each of whom has a family and community that will, in turn, be positively impacted. In all this, a key factor to our success will be agility. We must continue to offer a diverse portfolio of opportunity pathways. We must be broad in our student communities and strong in our conviction that education is transformational.
It is our heritage, our people and our unique approach to collaborative intelligence and Education For Impact that make us different and make us special .
The leaders and professionals of Honoris' founding institutions have a strong affinity to our vision today and the subsequent leaders who have joined the project since its launch have contributed to growing this vision. The collaboration of these individuals and their ability to embrace Honoris' goals of impacting education in Africa, are inspiring, visible, and tangible.
But, what I'm most proud of are the individuals that we are supporting and advocating for. My vision for Honoris has always been that the impact we make and the ecosystem that we build assures success for our students, and the past year and a half has been inspiring in Honoris' movement toward this vision. Education for Impact becomes real for me when I see the successes of the individuals that make up our institutions, and as we move forward into the New Year, I look forward to seeing these individuals continue to prosper.
Luis Lopez, CEO Honoris United Universities