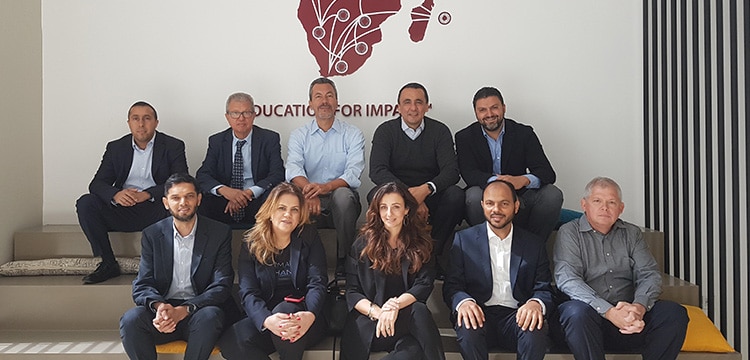 Honoris opens the largest multi-institution, urban-city campus in Casablanca, Morocco
21st century learning environments / Education For Impact ® by Honoris Staff Writer
Roudani Campus to transform education in Casablanca
The new Roudani campus in Casablanca, Morocco, is the first campus to co-host students from different Honoris member institutions. Uniquely located in the city centre, the campus is open to students of three top institutions, as well as city residents through a programme of open debates and conferences. The 10,000-square-metre space challenges the classical approach to universities, bringing education into today's Africa by inspiring cross-speciality collaboration, and by supporting innovation through its entrepreneur's hub.

The new Roudani campus in central Casablanca is the first in Africa to co-host students from different Honoris member institutions. This unique, multi-disciplinary space is a new-generation campus that, to use an ancient Greek analogy, transforms the classical idea of a university as a rarefied and exclusive acropolis into a central gathering place, or agora.
Unique for Casablanca, it is located in the city centre, putting students close to all the conveniences of a urban ecosystem. The 10,000-square-metre space, which opened five months ago, is open to students of Casablanca's Université Mundiapolis, and the largest engineering school in Morocco, Ecole Marocaine des Sciences de l'Ingénieur (EMSI). There are also plans to open an annex for Ecole d'Architecture de Casablanca (EAC).
Roudani is a vertical campus, housed in one impressive building over 10 floors.
"Unlike a traditional horizontal or suburban university campus, with separate buildings for each subject, Roudani has been designed to allow for cross-speciality fertilisation," says Hassan Filali, CEO of Honoris United Universities in Morocco. "In one comprehensive ecosystem, we have schools of business, law, health, architecture, and engineering; as many urban problems come at the confluence of architecture and engineering, for example, there is scope for cross-speciality projects."
There are also plans for an Honoris Space, implemented as an innovation hub for students of all subjects. Here, students can learn the skills to be innovators and entrepreneurs, charting their own path and leading others.
"We are an emerging market," says Mr Filali. "With our unique macro challenges, entrepreneurship is an opportunity for our students. We will therefore impart an excellent academic experience but also the tools and reflexes to be able to create your own business and employment or to support small- and medium-sized enterprises. That is why we are setting up the innovation hub at Roudani."
The campus will position itself as part of the life of Casablanca – an agora – with conferences and debates open to city residents with intellectual curiosity. It will also offer a range of academic courses and qualifications to reflect today's broader educational interests.
"The Roudani campus not only presents a new educational organisation, but it will also be transformative to the environment," says Mr Filali. "It's open for everyone whether you want an education, to supplement your skills, or to boost your career with relevant formal credentials. It is truly unique."
The campus, which also has a large outdoor promenade for post-class discussions, is already hosting more than 1,200 students.