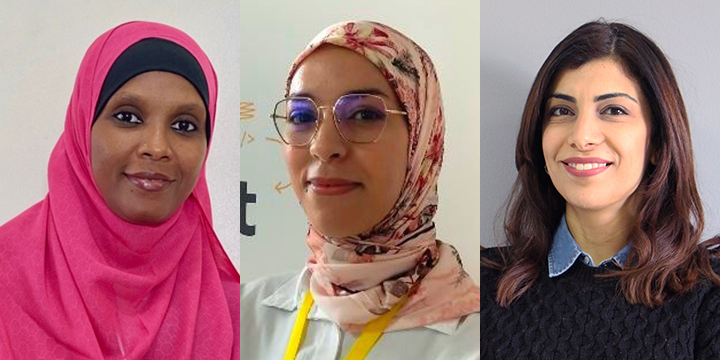 Trailblazing Honoris Women In STEM
Our Honoris institutions are proud to count an array of inspirational women among their Science, Technology, Engineering, and Mathematics (STEM) researchers, each of whom is achieving incredible feats and blazing the trail for other women in their fields. Here, we spoke to three of these revolutionary women about their experiences with the world of Women In STEM.

Nile University of Nigeria's Dr Assia Aboubakar Mahamat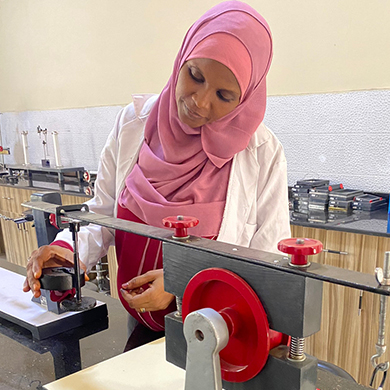 Since joining the Nile University of Nigeria in October 2021, Dr. Assia Aboubakar Mahamat has led the pace in the institution's STEM field. With a speciality in Civil Engineering, she has championed the advancement of transformative technologies through her award-winning and internationally recognized research work that focuses on the creation of eco-friendly and sustainable housing materials to address housing issues in local communities.
Dr. Assia, the current title holder and recipient of the UNESCO Foundation L'Oreal Award for Women in Science in 2022, had this to say:
"I chose to study STEM because I felt that through science, I can contribute to solving some of the basic problems that we humans face in our daily life. I confidently took up research work in civil engineering that aims to solve housing problems in communities because I believe living in a poor-standard housing plan could have a devasting impact and result in health-related concerns."
"Women are the focal point of the family, by projection it means they're the centrepiece of society, Women can easily detect societal problems and efficiently spice them up with adequate and appropriate solutions. There's therefore the need for a holistic approach to emphasizing the relevance of female representation in STEM fields," she concludes.
EMSI Casablanca's Houda Mouttalib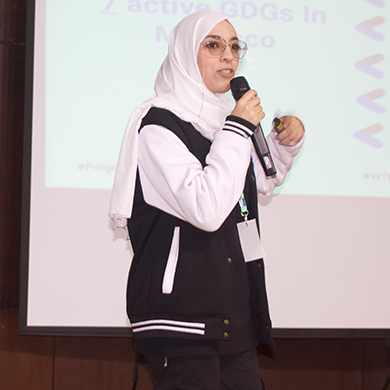 As a researcher at LPRI EMSI Casablanca who specialises in STEM, Houda Mouttalib is passionate about programming, technology, computer science, data engineering, and diversity in tech. She has been a Google Women Techmakers ambassador since 2017.
Why did you choose to study STEM?
"It all started with my curiosity about the best solutions for everyday problems using math to discover that the tech field is the key to the future. I started my journey by working as a full-stack developer, then I fell in love with data. I started a new journey by getting my master's degree in 2018 and working as a Data Engineer for almost three years with an international startup. But, my curiosity and my ambition to be one of the future builders took me to look for more. That's when I started research in education using XR and metaverse. From my experience of 8 years in tech, I believe that the side activities like helping and sharing with others give me a big push and helped me to understand where the world is going and be part of the harmony of this industry's growth."
Why do you think it's important for women to be more involved in the STEM industry?
"When I started getting interested in Technology during my first years of university, I wasn't noticing the gap between the genders and their interests. I wasn't open to knowing what was going on around me, and this helped me to not listen to what could stop me from pursuing my passion – but, the cons were that I was very confused about what I could do next and what the possibilities were for my career. It was evident to me that women should be interested in working in STEM as it uses mental effort and can provide flexibility to work anytime and anywhere, but when I started practising professionally I noticed how few women are and are unlikely to choose this field or profession compared to men. I started to understand the psychological and socio-cultural dimensions of this phenomenon, and that this unfair gap is in all countries according to a study by Wang, MT., Degol, J.L. It shows important numbers about women not only in STEM, but also in leadership positions. As a Women Techkmakers ambassador, my objective is to share that information with my community so they can be aware and act for women who are interested but they hesitate. Our vision is to provide visibility, community, and resources."
Esprit School of Engineering's Dr. Zouhour Hammouda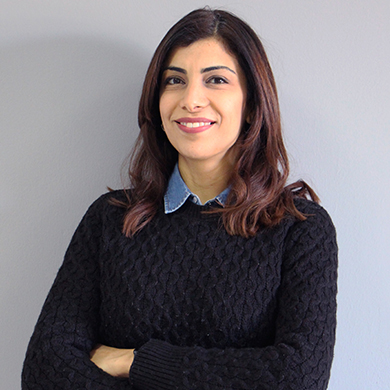 As a Data Analyst, Professor, and Researcher at ESPRIT School of Engineering in Tunisia, Dr Zouhour Hammouda is passionate about leading the way for all women interested in pursuing a STEM career.
"My passion for data and mathematics sparked at the university while studying biostatistics, thus amplifying my interest in Environmental science, data analysis, and data modelling. Today, with a PhD degree in Statistics, I am a Data Analyst and a professor and researcher at Esprit School of Engineering. I strongly believe that women have a pivotal role to play in STEM fields, but this can only be achieved with motivation and perseverance."