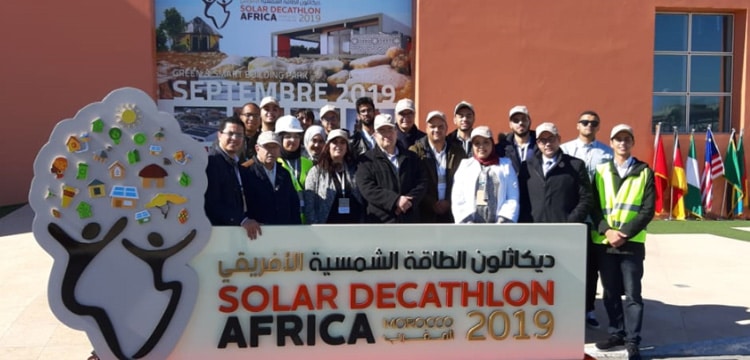 Leveraging knowledge, expertise, and best practices across the continent, the Solar TIGMI project was born out of a collaborative partnership between Honoris institutions in Morocco and in Tunisia
21st century skills / Jobs of Tomorrow by Honoris Staff Writer
Collaborative intelligence in practice
One of our Honoris engineering experts gives insight into how collaborative intelligence can work to great success in designing solutions to real-world problems.
Dr Mohamed Tabaa, Teacher and Director of the LPRI Laboratory at EMSI in Morocco, explains how multinational, multidisciplinary problem-solving is at the heart of an innovative project to design a solar-powered house for the African context. Called Solar TIGMI, the house is an intelligent, 21st century building that is inspired by and respects age-old African design traditions.

What was the thinking behind the Solar TIGMI house?
The Solar TIGMI is a purely solar-powered smart house which respects a Moroccan Berber concept and design. The word "tigmi" in Berber means "house". But also, following our strategy of sharing know-how across Africa, we in Morocco collaborated with colleagues at Université Centrale from Tunisia, in Technologies, Innovation and Green power by Maghrebin Institutions (TIGMI).
Our team decided to participate in an international competition named Solar Decathlon Africa, which was organised in Africa for the first time. We proposed an intelligent solar house that respects the charm of African architecture as well as its traditions.
What was the main challenge of the design?
The challenge was to develop a house based on a modular metal structure that is easy and economical to build in Africa. The house will be 100% powered by a solar and intelligent source via a proprietary control research and innovation platform that takes into account technological development via connected things (IoT) and Big Data platforms for storage.
How did multicultural traditional African architecture inspire you?
We were inspired to design the smart house so that we in Africa, and Morocco, can be responsible for ourselves – our own power, and our own financial decisions. We wanted to design a house that can be built in any African country with good potential for solar energy. We also wanted to showcase traditional Moroccan and Tunisian architecture, which was born out of a long history of indigenous Berber architecture mixed with Islamic Arab influences. This architecture is known for its practical efficiency, its resistance to hot and cool weather through effective insulation and its energetic balance, but also its beautiful designs and diversity, for example, via Berber, Andalus, and Ottoman renditions.
The Solar TIGMI project is a collaboration between Morocco through EMSI, and Tunisia through Université Centrale – can you tell us more about this collaboration?
EMSI and Université Centrale, as part of the Honoris network, share the main objective of collaborating via multidisciplinary and multi-institutional know-how. A pedagogical agreement has been signed between the two institutions in order to create a real bridge between the two countries, facilitating mobility between Morocco and Tunisia. This agreement, which encourages scientific exchange between EMSI and Université Centrale, underpins the organisation of our Solar TIGMI project and our participation in the Solar Decathlon Africa.
The Université Grenoble Alpes and the Université de Lorraine in France are also involved in the project – how are these institutions involved?
EMSI collaborated with research laboratories at these universities through off-site training and research. Professor Abbas Dandache of Université de Lorraine and LGIPM laboratory in Metz, France, offered teaching and scientific research support, and out of this collaboration came a series of congresses and workshops organised with the direct involvement of Université Grenoble Alpes represented by Professor Emmanuel Simeu. Professor Simeu, who is of Cameroonian origin, will also be our link to other African collaborators.
How can collaborative intelligence work to solve social and environmental problems?
Africa needs a new generation connected through collaborative intelligence. Academic excellence, shared through the mobility of students and teachers, can create innovative and long-term solutions to the big problems of today. For example, renewable energy is a collaborative axis that has social and environmental impacts, through the generation and availability of energy in rural areas. When experts from different cultural or academic backgrounds can come together and collaborate, we have a better chance of designing effective real-world solutions for our own specific environmental and social problems.
How is collaborative intelligence beneficial in the African context?
Africans generally have common problems and objectives, so effective collaborative intelligence can work to great effect in a large continent like Africa. Schools and universities that develop a strategy of collaborative excellence based on research, development and innovation can promote industry best practice and help in the development of our continent as a whole.