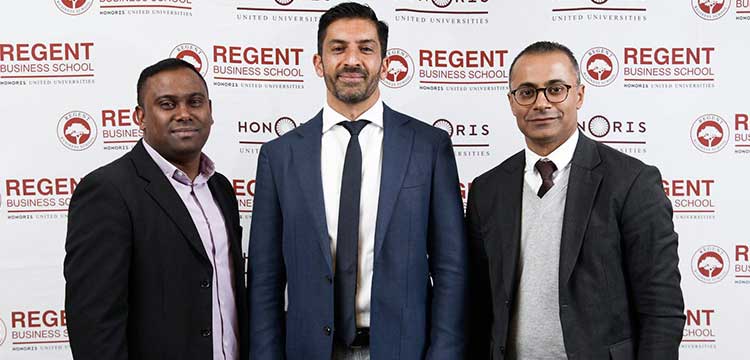 REGENT hosts a critical conversation
Standard Bank Chief Economist debates South Africa's future
Johannesburg – July 23rd, 2019
One of South Africa's top economic minds, Goolam Ballim, kept the audience mentally on their toes in an interactive debate on President Ramaphosa's turnaround strategy for the country. The evening was a key event in REGENT Business School's Critical Conversations series.
The Chief Economist of Standard Bank in South Africa, Goolam Ballim, held a lively debate with senior managers, leaders and captains of industry in a masterclass hosted by REGENT Business School in July. The interactive session, held in Johannesburg at the Crown Plaza Hotel, Rosebank, was a key event in REGENT 's Critical Conversations series.
Mr. Ballim addressed the evening's discussion topic, The Future of South Africa's Political Economy in the 6th Administration – Quo Vadis?. He challenged the audience to face up to the exigencies South Africa faces, and to work towards finding solutions.
After providing a broad overview of the global political economy, Mr. Ballim painted a bleak metaphorical portrait of South Africa, which showed how key institutions of the state, such the National Prosecuting Authority, the Treasury, SARS and other law enforcement agencies had been, in various ways and to varying degrees, undermined in recent years.
However, President Ramaphosa's national turnaround strategy, and his pledge to restore these state institutions, offers a ray of hope, according to Mr. Ballim. The various presidentially appointed enquiries would ultimately be catalytic in restoring trust in the government.
Dr Ahmed Shaikh, Managing Director of REGENT Business School, pointed out that developing South Africa will require collaborative efforts.
"We need to find the collaborative intersections necessary for an inclusive and successful development trajectory of South Africa's political economy," he said. "There is a definitive spirit and desire to finding long-term solutions to the challenges we face so we can foster an inclusive and sustainable development path."
Mr. Ballim showed how the most successful economies around the world are underpinned by effective and credible public institutions, and it is an oft-repeated truth that when these institutions unravel, socio-economic performance swiftly collapses. Despite the country's fragile economy, Mr. Ballim said he is optimistic that the intrinsic values of South Africa's state institutions are now being restored. Looking back, Mr. Ballim said that history will view 2019-2020 as a period of stabilisation, with measurable growth taking place from 2020.
To boost this growth, Mr. Ballim emphasised that it is crucial for all social formations in the country to coalesce around a social compact, however fragile, to bring about constructive change to extricate the country from low growth and high inequality.
The reestablishment of relations between the ANC and its alliance partners, the SACP and COSATU, he believes will also help to reduce political tensions in the country and make progress in uncovering enduring solutions that balance the need for structural reforms alongside the urgent need for economic transformation.
The evening's robust discussion ended with an animated networking session, leaving participants with much to think further about.