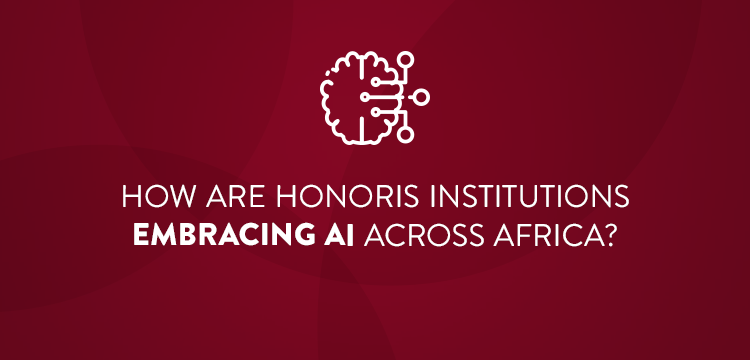 Embracing AI Across Africa
With AI taking the global stage, we are inspired by institutions across the continent exploring the possibilities of the technology in education.

From an extracurricular program in partnership with Huawei, to the ongoing development of the chatbot named Esta, and AI chatbot linked to ChatGPT named Najeh, the Honoris network is working to harness the potential of AI in education.
Nile University of Nigeria, Nigeria
Nile University of Nigeria has established comprehensive AI programs as part of its Faculty of Natural and Applied Sciences. With a keen focus on cutting-edge technology, the university offers specialised courses in Artificial Intelligence (AI) specifically tailored for 400-level students pursuing degrees in Software Engineering and Computer Science. These courses provide students with a deep understanding of AI principles, algorithms, and applications, equipping them with the necessary skills to excel in the field.
Recognising the importance of industry collaboration, Nile University has forged a strategic partnership with Huawei Technologies Company, a leading player in the tech industry. This collaboration extends beyond academic coursework to extracurricular programs. By leveraging Huawei's expertise and resources, the university enhances its students' exposure to real-world AI applications, industry best practices, and emerging trends. Through these extracurricular programs, students gain valuable insights, practical experience, and networking opportunities that further enrich their educational journey.
By offering specialised AI courses and fostering collaborations with industry leaders like Huawei Technologies, Nile University of Nigeria is at the forefront of preparing students for the dynamic and rapidly evolving field of artificial intelligence, empowering them to become competent professionals and innovators in the global technology landscape.
REGENT Business School, South Africa
REGENT Business School, based in South Africa, is actively involved in numerous research projects and initiatives related to artificial intelligence (AI). Among our ongoing endeavours is the creation of a chatbot called Esta, specifically designed to replicate interactions with real estate agents. Esteemed as a practical learning tool, students can engage with the chatbot and conveniently submit their conversations for review by their lecturers. The initial version of Esta, developed using Electron, effectively showcased the concept's viability. Presently, we are diligently working on Version 2, which will encompass enhanced features and a user interface that promotes intuitive usage.
Université Centrale Group, Tunisia
UCG has developed a bespoke AI chatbot named Najeh, closely integrated with ChatGPT and the Learning Management System (LMS). This tailored version is specifically designed for individual schools, incorporating customised functions and features that align with their respective fields and specialties. By providing targeted instruction and enhancing learning outcomes, Najeh facilitates a more effective learning experience. Notably, unlike the free version of ChatGPT, Najeh remains accessible even during periods of high demand and offers prompt responses, ensuring a seamless user experience.
These initiatives demonstrate our commitment to leveraging technology to enhance learning experiences and prepare students for a tech-driven future.
MANCOSA, South Africa
In the midst of an extraordinary digital transformation, the ability to accurately forecast the profound impact of artificial intelligence on education remains a significant challenge. MANCOSA, as an institution, eagerly embraces this evolving landscape, positioning itself at the intersection of technological innovation and human creativity.
With a vision for the future where education and AI are intricately intertwined, MANCOSA acknowledges that educators who harness the potential of AI will undoubtedly spearhead a revolution in the field of education.
Going beyond equipping students, staff, and faculty with cutting-edge tools, the institution is dedicated to fostering a culture of continuous learning and innovation. Guided by a human-centric approach, MANCOSA emphasises that the future is not solely about technology but about empowering individuals through its transformative capabilities.