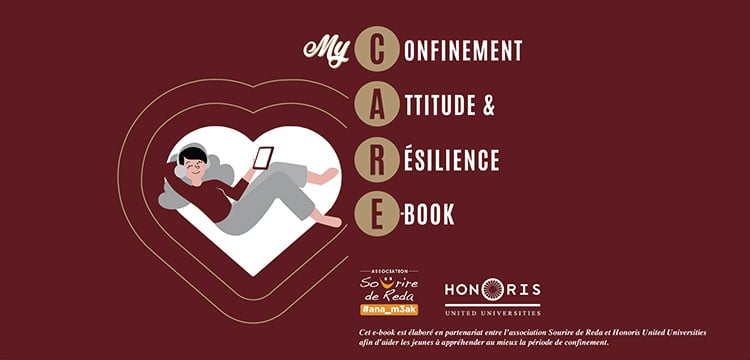 « My CARE », e-book to help the youth to better deal with confinement
Casablanca, May 11th 2020
Sourire de Reda, with the support of Honoris United Universities, is contributing to support the state of health emergency to combat COVID-19 by providing "My Care", a practical guide to help the youth to better deal with confinement.

This digital booklet aims to help young people better understand what they are going through during this period of confinement by identifying the emotions caused by social distancing; and provide them with a series of recommendations and tips for getting through this period in the best possible mental state.
This e-book was developed thanks to the joint expertise of Sourire de Reda and that of the Faculties of Health Sciences of member institutions of the Honoris United Universities network in Africa – including Mundiapolis University in Morocco, as well as Sourire de Reda's youth committee to cover all aspects regarding youth in confinement, from family life to school, including time management, food, sports, artistic activities and relationship with social networks among other aspects.
This guide is based on the experience of Sourire de Reda in supporting suffering young people and suicide prevention. Sourire de Reda has provided young people with emotional support through their ch@t Stop Silence for more than a decade. "This helpline has experienced an increase in incoming calls of more than 30% since the start of confinement with a peak in the first week during which the organization recorded twice the usual requests," said Ms. Meryeme Bouzidi Laraki.
Sourire de Reda observed that young people have been going through a period of stress and confusion during this confinement. This distress can be linked to several factors: school pressure, lack of visibility on exams and competition to access schools and universities, isolation being far from friends, family and resourceful people, lack of privacy in their home, or the upsurge of cyber-harassment situations due to increase in time spent on the web.
Sourire de Reda also noted that for some young people, the conditions of confinement can be very hard. This is particularly the case for young people confined with an abusive family, those who suffer from addictions and are in "forced" withdrawal without psychological support, young people with severe physical disabilities, living with psychiatric disorders or even facing illness or death of a loved one without being able to be with them during these difficult times.
To support all these young people facing their anxieties and their loneliness, Sourire de Reda and Honoris United Universities have designed a "positive" document which offers them a new way of understanding and living this unprecedented period.
The e-book is available in French, English and Arabic.
In Morocco, Honoris also welcomed a partnership with INWI, one of the largest Moroccan telecom operators, to share the e-book on its platform e-madrassa, a free learning and orientation platform developed with educational partners.
About Sourire de Reda:
Sourire de Reda has worked for over ten years to help suffering young people and to prevent acts of violence, including suicide. Founded in 2009 with the will to contribute to the awareness of society on the silent suffering of young people and to make an online emotional support service available to children and teenagers that allows them to avoid isolating themselves in the difficult times they can go through.
https://www.sourire2reda.org/