Multinational research collaboration produces 3D-printed respirator
Tunis, 28th April 2020
Université Centrale, Tunisia, and international partners produce life-saving ventilation system for coronavirus patients.
In an act of solidarity, Université Centrale in Tunisia, a member institution of the Honoris network, has partnered with Digital Industry Tools Expert (DITEX), which brings together the expertise of Dassault Systems, Université de Lorraine in France and industrial engineering company TECH-3D. Together, the team, led by Professor Nidhal Rezg, has successfully produced a non-invasive ventilation system that can be made using commonly accessible and inexpensive components, making it affordable and easy to produce globally. A team of doctors from within the Honoris network, including Chadli Dziri, MD, a leading surgeon and director of the Honoris Medical Simulation Center in Tunisia, and his colleague Dr Mamoun Ben Cheikh, an anesthesiologist, also consulted on the design of the ventilator.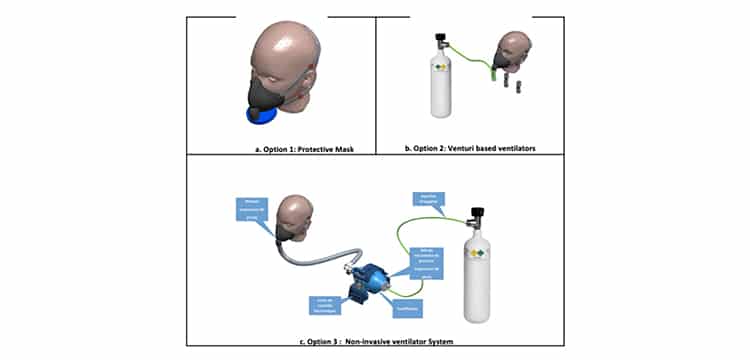 The ventilator design, which is an open-source software without patent, can be used by countries around the world. The non-invasive kit includes a protective face mask, 3D-printed, that connects to an electric insufflator – the body of which can also be 3D printed. Attached to the insufflator is an oxygen tank that delivers a predetermined, fixed concentration of oxygen.
Professor Nidhal Rezg, project lead at the Polytechnic Engineering School of Université Centrale / DITEX – Université de Lorraine said, "We have collaborated with some of the very best and highly skilled engineers, scientists, researchers and medical professionals within our network and academic partners to rise to the challenge and create a device that can potentially save lives in the fight against COVID-19. It was critical to ensure it was affordable, easy and quick to produce and most importantly available to everyone. The device can be easily duplicated in different countries in Africa and around the world using software that can be downloaded – and it comes with a free instruction manual for ease of use. It has also been designed to be used in both a hospital and a home setting."