To open our Impact Stories chapter, we introduce to you EMSI, Ecole Marocaine des Sciences de l'Ingénieur in Morocco, a multiple award winner for innovation. One of the team of SMARTiLab (the research center of EMSI), composed of researchers, doctors, engineers, qualified technicians and students, young and old, men and women, a team conscious of the problem of parking who believes intimately that technological innovation is there to impact positively to life in society and brings more convenience to the citizen. The team has created the intelligent parking solution SmartyPark, finalist at the world cup of innovation in the categories smart cities in Barcelona.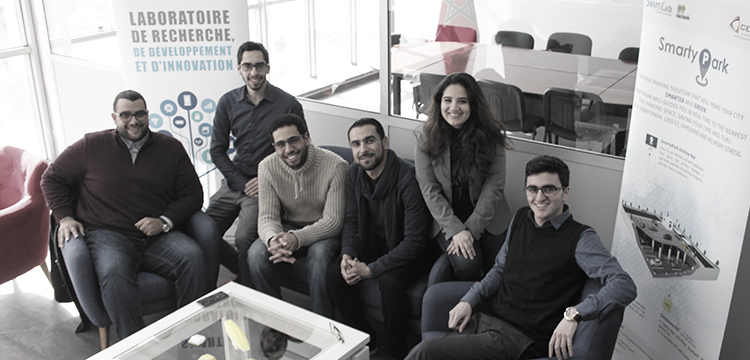 From left side to the right:
Hafid Griguer, Director of SmartiLab |  Marwane Rhouni, Final year student in Industrial Ingenieuring | Youssef Aiboud, Engingeer in embedded systems | Mbarek EL Missaoui, SMARTilab technical support manager | Myriem Hnini, Engingeer project manager | Reghay Ahmed, Final year student in IT and Network Ingenieuring
The intelligent parking solution SmartyPark par SMARTiLab, finalist at the world cup of innovation in the categories of smartcities in Barcelona
« At SMARTiLab, technological innovation and scientific research are at the service of the development of a world where it is good to live, alone and in community.
In cities that are increasingly connected and congested, implementing a smart and efficient city management policy is a crucial step to take. Moreover, according to the recommendations of major companies dealing with smart cities, the issue of transport and mobility is a key criterion.
In this context, SMARTiLab has raised the issue of urban parking as a major challenge facing any smart city.
Indeed, according to the latest statistics, the search for a free parking space causes 70 million hours lost per year, emitting an additional 1.5 million Kg of CO2 corresponding to a fuel consumption of more than 10% And increasing congestion of cities by more than 30%. But there is an infinite everyday stress among drivers.
From there, SmartyPark was born. An intelligent parking solution based on a new technology made in Morocco and patented internationally, called Senstenna. Senstenna is a connected object technology implemented at the level of each parking space. This intelligent solution will allow real-time positioning and guidance of any driver at the nearest parking place, using a mobile application. The solution is based on robust Big Data algorithms and artificial intelligence. SmartyPark also features a smart and intuitive computer application that helps decision-making to optimize real-time parking and vehicle mobility within the city.
The SmartyPark solution guarantees a direct economic, ecological and social impact on the city and the citizen. Indeed, by implementing SmartyPark, the city will be more attractive and "green" and will integrate the smart cities hub. The city will also be equipped with a Big Data test platform to anticipate innovative solutions to future urban problems. Furthermore, SmartyPark will contribute to improving the quality of life of the citizen who will be less stressed and more productive. SmartyPark has aroused the enthusiasm of experts in smart cities solutions and was able to win several honors and honors among them the gold medal at the Archimed exhibition of inventions in Russia on behalf of Morocco and the African continent, at EuroInvent in Romania and the finalist at the World Cup of Innovation in the category of smart cities in Barcelona».
The Smartypark team